Updated: Several Arrests Outside NagaWorld Casino as Protests Resume
6:55 p.m.
Strikers departed around 6 p.m. chanting "we will come back tomorrow," after 15 more protesters were arrested Monday afternoon and the Phnom Penh Municipal Court prosecutor issued a warrant naming nine union members in an investigation.
The prosecutor named nine NagaWorld union members as suspects for incitement charges for their role in the 17-day strike against alleged labor rights violations by Hong Kong-listed casino group NagaCorp.
Six of the nine workers named by the prosecutor were arrested on New Year's Eve and charged on Monday with incitement under articles 494 and 495 of the criminal procedure law, according to human rights group Licadho. A total of 10 people were picked up in the New Year's Eve crackdown, but four were released on Monday morning, union president Chhim Sithar told VOD earlier Monday.
Phnom Penh Municipal Police spokesperson San Sokseyha said Monday afternoon that he had yet to receive a report about the day's arrests.
Municipal court spokesperson Y Rin said the case of six people arrested on Friday was in the hands of the investigating judge.
As strikers headed toward the Aeon Mall I parking lot, Police quickly removed red-and-white barricades without taking any action against the participants.
Patrick Lee, a legal adviser for labor group Central, told VOD that the authorities' crackdown on the strike was a tactic to suppress the union members' rights, and called for the detained strikers' release.
"These arrests appear to be little more than a blatant attempt to dissuade peacefully striking workers from exercising their fundamental rights," he said. "They have been arrested as a means to try and silence the voices of others. These workers should all be immediately released without charge."
4:53 p.m.
Naga union president Chhim Sithar said a total of 15 union members had been arrested on Monday afternoon according to strike participants, an update from earlier reports that 14 people were arrested. She told VOD earlier Monday afternoon that she planned to participate in the strike this week.
4:41 p.m.
4:35 p.m.
One of several hundred protest participants said their colleagues had been arrested near the roundabout on the corner of Sisowath Quay and Sihanouk Blvd., known for the statue of dictionary author Chuon Nath, as they tried to join the fenced-off strike site next to the Australian Embassy on National Assembly Blvd.
Strike participants were seated behind red and white barricades set up by police, making noise with plastic horns and homemade shakers of empty plastic bottles and gravel. As a worker read the strike demands into a megaphone, they cheered and sounded the instruments.
Panha, a NagaWorld employee laid off after four years there, said he was not scared of anything, even knowing his colleagues were arrested.
"This is disappointing. I will keep coming until they arrest all of us," he said.
One striking woman shouted to reporters that she would keep coming until the company offered a solution.
"If we do not come, we will die. The foreigners are working inside so easily, but we are not like them."
"This makes us stronger. When we are scared, no one is coming [to help]," she continued.
Chan Pel, 43, said she had been working for NagaWorld for 22 years before she was laid off in May. She said she had joined the strike daily and would continue to do so.
"I'm not scared even if they arrested our friends. I'm hurting," she said. "This encourages me to come here more and more. My heart is burning. I won't stop coming until we get the solution."
Riot police moved back at about 3 p.m., following the arrests of 14 union members.
3:45 p.m.
A video from strikers shared on Facebook by Central's Khun Tharo shows authorities grabbing women by their arms as they link arms to resist, with authorities dragging them outside the camera's view. One woman can be heard shouting, "oh my god!" District guards appear to grab for phones, and the cameras shake uncontrollably.
In another video posted by a strike participant, an arrested woman films inside a police van, saying she is one of 14 people inside the back of a truck with pinhole-sized windows.
"We are the strikers, and now we have been arrested and placed in a cage," a woman is heard saying in the video. "Help and share with all of the people. This is a grave injustice, what have we done wrong? Even a pregnant woman is arrested and pulled in and beaten."
"Why, when we just come to protest? Why do the state and the forces arrest us? … This is very cruel. What have we done wrong? Now we do not know where they will take us."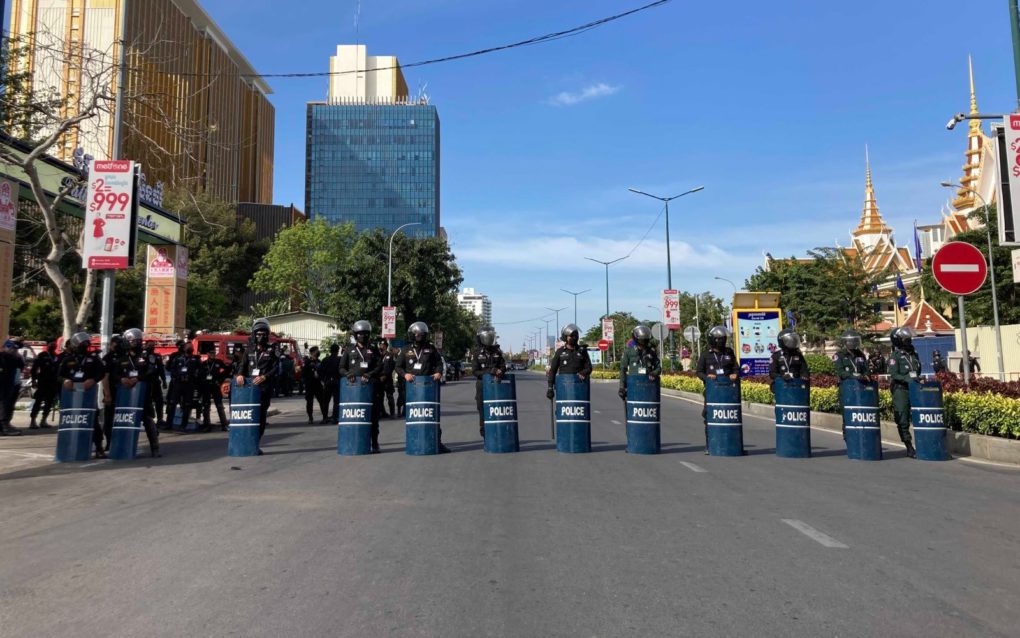 3:10 p.m.
Ma Chettra, an official at NGO the Cambodian Youth Network, said one of the arrested women, Luch Romduol, had called him saying there were 14 protesters together in a police van. She believed they were being taken to the municipal police station. One of the 14 was a man, and another was a pregnant woman, Chettra said Romduol had told him.
Near NagaWorld, around 300-400 workers continued their protest, while the park in front of the NagaWorld 1 building was cleared.
2:55 p.m.
Striking casino workers resumed their protests outside Phnom Penh's NagaWorld casino this afternoon following the arrests of 10 people on New Year's Eve, as police were seen immediately arresting at least one more protester.
A fire truck arrived at the scene just after the arrest around 2:30 p.m., as protesters yelled they feared it would be used to spray them.
"It's an injustice," one woman was heard yelling near the casino. "Why are you helping a foreign company suppress workers?"
"Please release them," she said as a police van drove past.
Around 300 workers are seeking reinstatement following layoffs of more than 1,300 NagaWorld workers last year, including union representatives.
They began protesting last month, and were joined by some current casino workers as crowds grew to around 1,000 on some days.
On New Year's Eve, police cracked down on an evening protest, arresting eight people from the union's office as well as a tuk-tuk driver and a worker outside NagaWorld 2.
Six were questioned in court over the weekend. Union president Chhim Sithar said on Monday that four of them had been released today but the six were still held at the court without knowing the charges they faced.
"We know from the beginning these tactics will be used to intimidate the members from stopping the strike," she said.
Reporters saw no protests over the weekend.
More fire trucks were seen arriving at the scene around 2:40 p.m.
"We are coming to do nonviolent protests, but they come like they are going to war," one worker said in a live video broadcast by protesters.
Source:VOD